StaxDeal Home & Garden Store Launches Bitcoin Payments
The debate over the identity of Bitcoin will not end. But those who sustain that Bitcoin is a currency, have some more proof to support their argument. Recently, StaxDeal – an online store focusing on a variety of products – has enabled BTC payments.
What is StaxDeal?
There are several reasons why StaxDeal launched Bitcoin payments. The rationale proves that BTC is a currency.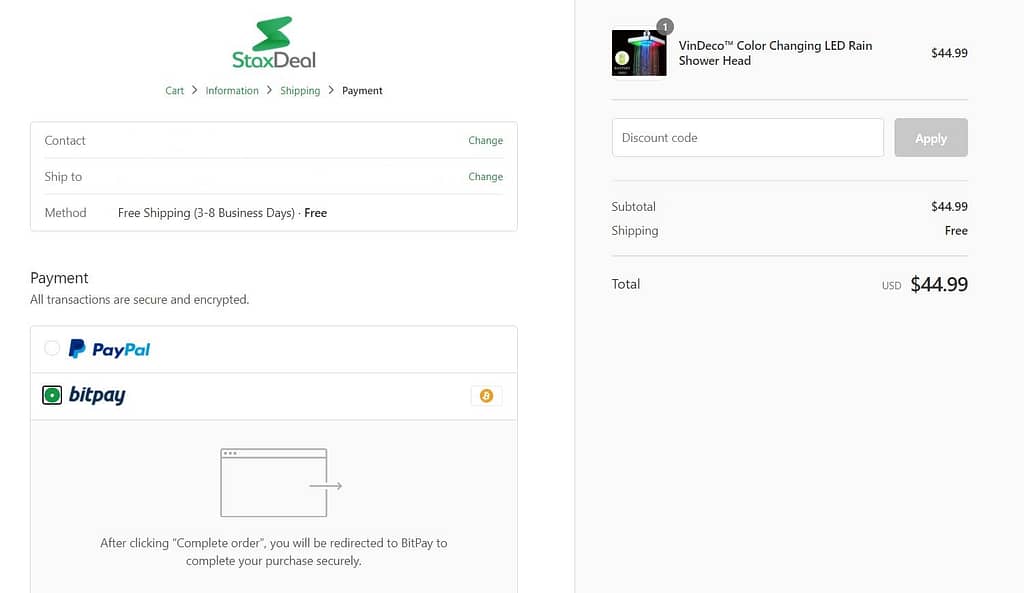 Before we go into those, here is some background information on StaxDeal and what it offers:
StaxDeal is a new online store launched in 2020
It focuses on a wide variety of consumer products and electronic gadgets
This store services US customers
StaxDeal is constantly adding more products, as well as payment methods
Bitcoin payments at StaxDeal are powered by BitPay
Why Launch Bitcoin Payments?
StaxDeal does not cater specifically to the Bitcoin or crypto communities. Its products are varied and fit the needs of a wide range of customers.
Nevertheless, its management found that enabling BTC payments gives the store several advantages.
Here are some:
Added exposure – since the Bitcoin community is very tightly knit and is always looking for adopters
An inexpensive payment rail – enabling credit card and PayPal payments is costly. Comparatively, BTC payments are cheap
Exposure to an asset that tends to appreciate
Launching BTC payments does not interfere with any other payment option, but gives customers more choice
How does StaxDeal Prove that Bitcoin is a Currency?
After reading this most of you would think that Bitcoin is being used as a payment rail. Our argument is that in this case, StaxDeal views Bitcoin as a kind of electronic P2P cash; exactly what Satoshi wanted.
Yes, it is a payment rail. But the beauty of it is that Bitcoin is a currency with a built-in payment rail that is perfectly suited for the internet era.
Think about it in the following terms:
Fiat is the kind of currency that most people use, and its payment rail is physical cash
To use fiat in an internet-powered world, you must make the money digital
Since it is not naturally digital, you need a third-party provider like Visa or PayPal
StaxDeal Understands Bitcoin
StaxDeal understands this. It uses Bitcoin payments precisely because this currency does not require vendors to pay for any third-party services to use it. Using BTC is cheaper and it can be handled as a foreign currency on the accounting side, which is exactly what this online retailer does.
Many other online stores and e-commerce businesses are bound to discover the same advantages. There will be more adoption as a result, especially now, in the aftermath of the corona virus pandemic.
As central banks print more fiat and governments issue more debt to inflate the economy artificially, e-commerce sites like StaxDeal will inevitably look for the kind of currency that is designed for the internet era and can also keep its value.