Nodl Or Casa: Which Full Bitcoin Node Should You Get?
Convenience is underrated sometimes. When it comes to reducing the complexity of your daily tasks while you still stand up for what you believe in, gadgets that make your life convenient are important. This is definitely the case of both Nodl and Casa Bitcoin nodes.
If you are looking to run a full Bitcoin node without going through the hassle of the set up, these are the leading solutions for you to do so conveniently. But which should you pick?
Nodl Bitcoin Node
That nice little metal box that you plug into your router is a powerful tool that allows you to connect to both the Bitcoin and the Lightning network.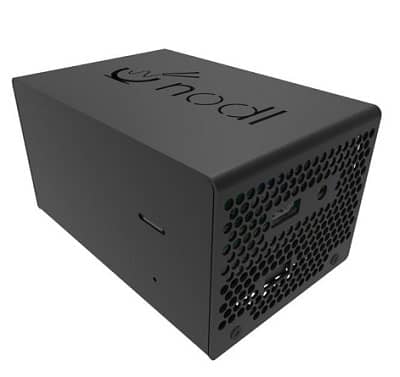 With a Nodl Bitcoin node you will have the full freedom necessary to connect to the network and broadcast your own transactions without relying on intermediaries. It is also easy to set up.
Casa Bitcoin Node
A sleek device that allows you to access both the Bitcoin and the Lightning networks. Casa is well-known for creating a small ecosystem with its products, integrating a variety of products and services.
These Casa Bitcoin nodes come with an option to buy a membership. That membership comes with added support features, a multisig wallet and a nice Trezor One device among others.
Comparing the Nodl and Casa Bitcoin Nodes
To understand which you should pick, it is important to see a more in-depth comparison. Here is a table that will allow you to compare the merits of both Bitcoin/Lightning nodes and help you pick which one suits your needs:
| | | |
| --- | --- | --- |
| | Nodl Bitcoin Node | Casa Bitcoin Node |
| Blockchain Pre-Load | No | Yes |
| Lightning Network Node | Yes | Yes |
| Membership Option | No | Yes |
| Additional Ecosystem Products | No | Yes |
| Multisig Wallet | No | Yes |
| Customizable | Yes | Yes |
| BTCPay | Yes | No |
| Open Source | Yes | Yes |
Nodl and Casa Bitcoin Nodes: Specs & Cost
Many of you will be curious about what is under the hood when you buy either a Nodl Bitcoin node or a Casa Bitcoin node. The answer is simple: Both are based on a CPU that resembles a Raspberry Pi. Nevertheless, there are some slight differences and those also show up in the cost. Here are the specs for both devices:
| | | |
| --- | --- | --- |
| | Nodl Bitcoin Node | Casa Bitcoin Node |
| Hardware | Rockchip RK3328/Samsung 860 EVO | Raspberry Pi 4 |
| Memory | 500GB/1TB | 1TB |
| RAM | 4GB 1600MHz LPDDR3 | 4GB LPDDR4-3200 SDRAM |
| Processor | Quad-Core ARM Cortex A53 64-Bit | Quad core Cortex-A72 ARM v8 64-bit SoC @ 1.5GHz |
With similar hardware specs, it is difficult to tell which would be the best Bitcoin node to get. The answer might come down to the price. A Nodl Bitcoin node is $499 USD while a Casa Bitcoin node comes together with a $300 gold membership subscription.
That subscription lasts for a year, but potentially, you could cancel or not renew it and still keep your node. Additionally, the new Casa Bitcoin Lightning node 2 is based on a Raspberry Pi 4. It is slightly better than Nodl's hardware. It also comes with a Trezor One device, which is a nice addition, especially if you don't have one.
Summary
Both Nodl and Casa offer great Bitcoin nodes for you to run at home. They are easy to install and they both come with the Lightning node as well.
These are both highly convenient products for you to have your own Bitcoin or Lightning node without going through the hassle of setting everything up yourself on your computer or on a Raspberry Pi.
They also come with their own software which makes it easier to interface with your node – UX is one of the main advantages both nodes have over your DIY nodes.
Advantages & Disadvantages
Nevertheless, there is a price to pay for convenience – literally! Here are the two main advantages and disadvantages of both the Nodl and Casa Bitcoin nodes:
Nodl Bitcoin Node Advantages:
Highly customizable with many software options, including one click installation of popular features.
BTCPay option.
Disadvantages:
The most expensive of the two.
No blockchain pre-load.
Casa Bitcoin Node Advantages:
Bitcoin Blockchain pre-load.
Multisig wallet.
Disadvantages:
Gold membership, which gives you access to the best service, is 300 USD a year.