Fold Bitcoin Cashback App Review
Bitcoin cashback is becoming more attractive as the gap between the physical and digital world narrows. Fold is at the center of this transformation.
This Bitcoin cashback app allows you to purchase gift cards with Bitcoin and then spend the credit on those gift cards at some of your favorite stores and restaurants.
Additionally, Fold is a Bitcoin cashback app, which means you will get a percentage of the money you spend back, denominated in Satoshis on your Fold account. Here is how this app works and why you should download it.
As a bonus for signing up using our link you'll get 20,000 sats FREE just for joining! Signup in 1 click and earn some free Bitcoin because we love you and we know you love to HODL!
Fold Bitcoin Cash Back: The Basics
To the user, Fold's app on the phone or desktop computer works just like any other gift card app out there. There is quite a bit of sophistication behind that user-friendly interface.
Fold Bitcoin cashback works on the Lightning Network – LN. This allows it to process transactions fast and with minimal fees. That is what enables the cashback feature and allows you to stack sats while you purchase.
How to Buy Anything with Fold?
Fold works with gift cards. You just need to purchase the gift card from the business you want to buy something at. Here i a series of pictures that show you just how easy it is to use the Fold app: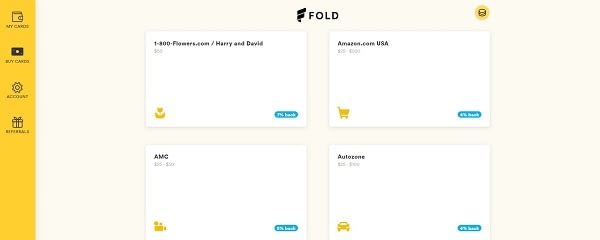 To buy a card simply go to "Buy Cards" on the left hand side of the interface and then pick the one you want. You will be able to check the cards you bought and use them on the "My Cards" section later.
Select the amount you want to load on the gift card. You should also determine:
Whether you want to apply some of the cash back you have earned to your purchase or not
If you want to send the gift card to someone via Twitter
If you want to pay using a Lightning Network wallet
The screen will also show you how much cash back you are expected to earn when you use the card.
Once you are ready to pay just make a transaction form your wallet to the address that Fold gives you. That address expires after the timer hits zero.
The timer also holds the rate of BTC to USD to protect you from price volatlity. This is one of the smartest, user-friendly features of Fold.
Your purchase will go through when Fold gets a network confirmation of your transaction. After that, you will see your gift card in the "My Cards" section and you will be able to use it.
How Does the Fold App Work?
Since Fold works with gift cards, it is based on the cards' bar codes. This allows you to make purchases online and at physical locations. It basically converts your Bitcoin into digital cash – what it was meant to be all along – that can interface with a growing pool of brands. Here is exactly how Fold works:
Load a gift card you buy with Bitcoin on the Fold app, to your account
Use that gift card at select retailers and restaurants by using the barcode or the number beneath it.
You can make online purchases with your Fold gift card or you can purchase at physical locations
At physical locations, all you need is to scan the bar code from the app on your phone at the cash register
Every purchase you make with the gift cards that you have on your Fold app will credit you with Bitcoin cashback
The amount of Bitcoin cashback you get on any purchase depends on the individual retailer or restaurant
It is important to note that you will not get Bitcoin cashback rewards on gift cards or on the part of a purchase that you make using your Fold Bitcoin cashback rewards.
Fold App Download Links
You can now get the fully functional Fold App on IoS or Android. It is not yet available in all countries but they are adding more all the time:
Retailers and Restaurants that Work with Fold
Fold works with some of the most popular retailers and restaurants in the US and to a lesser extent, other countries. Here is a list of the retailers and restaurants that Fold works with and the countries where the service is available:
Amazon – on amazon.com only
AMC – US only
Burger King – US and Canada
Dunkin' Donuts – US only
Starbucks – US, UK, Canada, Australia, Ireland and Mexico
Target – US only
Uber – US only
Additional brands that Fold works with in the US are:
Chipotle
Home Depot
Hotels.com
REI
Southwest Airlines
T.J. Maxx
Fold Bitcoin cashback rewards go up to 20% depending on the retailer or restaurant. Fold is also working to expand its service further in the European Union. It will also add more brands in other locations.
Bitcoin Cashback Apps: Not Fold's First Rodeo
Fold is one of the pioneers in this Bitcoin cashback rewards space. Its team has been involved with Bitcoin cashback rewards since the launch of the Lightning Network. Its first product was not this gift card app.
Fold's founders established LN.PIZZA or Lightning Pizza. This service allows anyone in the US to order Dominos Pizza for delivery or pickup using Bitcoin over a Lightning Network payment.
Lightning Pizza also comes with a cool 5% off on all purchases, which is a simpler way of giving users a Bitcoin cashback reward. It is also the perfect way to be a pioneer in the space and celebrate the launch of the Lightning Network with something as iconic for Bitcoin users as buying pizza.
Fold Bitcoin App Could Enable Greater Adoption
Fold's initiatives with Lightning Pizza and with the Fold Bitcoin cashback app are great news for Bitcoin holders. On one hand they will allow anyone who believes in Bitcoin to use their coins to buy everything they need.
On the other hand, it will show the world that thanks to the resourcefulness of Fold's founders and how the space has developed with the introduction of the Lightning Network, Bitcoin can now be used exactly like fiat, even with a cashback reward.
Fold Bitcoin Cash Back Card
As for increased adoption, there is no doubt that the Fold card is one of the best onboarding tools the space could hope for. Fold's Bitcoin cash back card is yet another product that shows how this company can expand within the Bitcoin rewards niche.
The card is basically a Visa debit card that gives users a Bitcoin cash back reward.
For those who are already using the Fold app, this is a great way to add another cash back reward option to their account. To those who are not using the app yet, this card could become their seamless entry into the world of cryptocurrency.
There is nothing simpler than having a card that you can upload fiat funds to and use just like any other card you might hold. The advantage of Fold's Bitcoin cash back card is that you can use it wherever Visa is accepted. Your exposure to malicious actors is limited to the funds you upload to it from your bank account, giving you additional safety.
Bitcoin Cash Back Rewards Beyond Fold Partners
The Fold Bitcoin cash back card also allows you to earn BTC on purchases at establishments that do not have a partnership with Fold. It expands your cash back options because it allows you to earn rewards on international transactions or on transactions you make overseas as well.
So, if you have heard about Bitcoin and you are still on the fence, this new Fold card is the perfect way to get into the market. You do not need to buy BTC at all. Just sign up and use this Visa Fold card for your usual purchases. You will not only be debt free – because it works like a debit card – but you will also earn Bitcoin for every purchase.