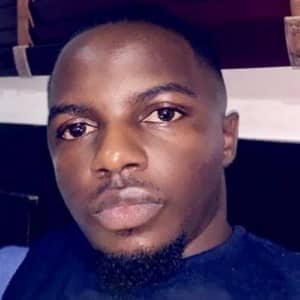 Bio
Keith Mali Chung is a Nigerian entrepreneur, the President of loopblock network and also the African ambassador for Beaxy, a US-based exchange. He is a digital assets educator, creating awareness and educating people across the African continent starting from Nigeria.
Money of the people, by the people, and for the people that it's value is determined by the people!  Bitcoin Keith Mali Chung
What was your work experience before cryptocurrency?
I have worked as a head of logistics while heading stores department for few years, it was an experience that prepared to what I'm becoming today, also I have been a musician, I sing, play Piano and bass guitar too, it's an experience that I enjoyed growing up 🙂  
How did you get involved in Bitcoin?
In 2016, I lost my job as a head of stores and procurement manager, and in search of what to do; I bumped into the tech space. What caught my eye was the Blockchain Technology and its dream of complete decentralization and bringing power and control back to the people. This was so fascinating and it caught my attention. Nigeria and the whole African Continent need this kind of innovation. It can liberate its people and speed up the wanted development and growth in the continent, but there was a catch!
Not even 1% of the African Community knew about this. We all need to know if there is to be any form of effect. This motivated me to go deeper, study and learn as much as I can about the Blockchain Technology.
So I started to develop myself, got associated with the space, and followed up Blockchain projects. My initial purchase of cryptocurrency came at a price in the year 2017. There was no secure and trusted means to acquire some crypto. The popular means then was through WhatsApp and Facebook escrow groups of which was my only option and the risk involved was 100% because one could lose all their funds in a go. But I still took the risk. I sent my Nigerian Naira by Bank Transfer to one of the Facebook users claiming to sell me some Bitcoin. After my Transfer was successful, I requested the BTC I paid for, and the person blocked my account so that I will have no means to communicate with him.
This experience was painful but was what gave me the drive to keep strong and find a way to make Bitcoin purchases, transactions and use more transparent, easy and secure platform in Nigeria/Africa. I was able to move from just being a cryptocurrency/Blockchain enthusiast to a key player in Blockchain adoption in Nigeria and Africa at large.
Describe Bitcoin in a sentence
Money of the people, by the people, and for the people that it's value is determined by the people! 
What do you love most about Bitcoin?
It's decentralized, no need for any 3rd party to babysit your transaction and take a piece of it and In developing nations, this technology is enabling more practical applications that will enable transparency and combat corruption in governments.
What dangers do you see facing Bitcoin?
Stiff regulations by governments across the world that will slow it adoption.
What is your prediction for Bitcoin over the next years?
The present financial system is faulty, negative yields is on the rise, Quantitative easing is cancerous to fiat, supply of money in an economy increases leading to decrease in cost of money i.e. interest rates. and this is the reason bitcoin is invented, that as fiat continues to devalue, people will see bitcoin and crypto which non-correlated asymmetric assets shall continue to be used as a hedge fund against the turmoils traditional assets and with the total supply of 21 million bitcoin, bitcoin will continue to rise in value and Will be the conductive class of asset that will lead greatest transfer of wealth humanity is going to experience.
What are you working on currently?
In early 2018, I met two of my friends and we co-founded the African AI and Blockchain Company LoopBlock Network Limited. Our goal is to solve the issues of Blockchain adoption in Africa, Blockchain and cryptocurrency use and cryptocurrency volatility issues which hinder the adoption of crypto in Africa.
I have been working inthe role of President of LoopBlock Network since 2018 till date.