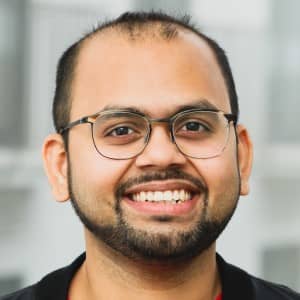 Bio
Arnab is an entrepreneur, legal engineer, and blockchain analyst based in Hamburg, Germany. He is the Co-Founder of STOKR and is involved in various policy initiatives in the European region. Additionally, he is actively involved in organising various community-based events in the Hamburg region that focus on blockchain and entrepreneurship.
The media community is still stuck in the Silk Road era, and for mass adoption, this needs to change. Arnab Naskar
What was your work experience before cryptocurrency?
I worked as a lawyer in India for some time, before moving to Germany for pursuing higher education in European legal studies. I am involved in this industry from early 2014 and started working full time from mid- 2017.
How did you get involved in Bitcoin?
Back in 2014, I paid in Bitcoins to buy few gaming items from the USA. That was some good old University days! That time I used Bitcoin mostly to avoid banking route as my baking account had limited facilities.
Describe Bitcoin in a sentence
Quoting Andreas Antonopoulos – "Internet of Money"
What do you love most about Bitcoin?
Transparency and immutability are highly needed for a society that aims to be connected. Both these characteristics are present in Bitcoin. Though we discuss quite a lot about transparency, immutability is often ignored. Immutability is what I think makes Bitcoin unique as compared to other DLTs. By design, Bitcoin has strong immutability against malicious changes due to the PoW.
Secondly, Bitcoin is relatively decentralized from the very beginning as compared to other cryptocurrencies. Currently, more than 100,000 nodes are operating; the highest among any other DLTs out there.
What dangers do you see facing Bitcoin?
In a simple word, I would say Education. The media community is still stuck in the Silk Road era, and for mass adoption, this needs to change.
What is your prediction for Bitcoin over the next years?
I don't predict Bitcoin price. However, what I can see over time, real Bitcoin payments will increase in volume, and that may only grow rapidly with the current international trade situation.
Technically, I would love to see more smart contract applications on the Bitcoin blockchain. Highly interested in projects like Pandora Core, Commerce Block.
What are you working on currently?
In one word- Security tokens. Tokenised digital securities will enable a completely new capital market, reducing the inefficiencies associated with the issuance and trading of securities. Along with few motivated, qualified, and highly committed individuals, we started STOKR in 2018. STOKR is a digital marketplace that allows innovative ventures to raise funds from investors by issuing securities on the Ethereum Blockchain (security tokens). We simplify the complex world of investing by opening-up inspiring opportunities for both professional and retail investors and businesses with bright ideas, within the framework of EU capital market laws. STOKR is already live, and you can check it out at stokr.io.