We want to thank YOU our readers for taking time to read our articles and share your comments and thoughts.
Congrats to the last winners, we hope you enjoy spending your vouchers!
We're going to be giving regular prizes to lucky readers. All you need to do is subscribe to our YouTube channel and we'll pick a winner.
We publish breaking news about Bitcoin and other cryptocurrencies, as well as exclusive giveaway videos, so check it out and THANK YOU!
This Month's Prize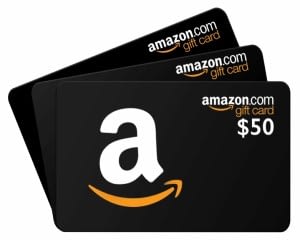 This month we're giving away another $50 Amazon voucher. Obviously this is a gift voucher bought with Bitcoin because we believe in all things Bitcoin and the HODL!
We also want to hear from you what prizes you would like to see in the next giveaway and any way in which we could improve and help you in the world of HODLing. So reach out to us on twitter and let us know your thoughts about us or Bitcoin.
And most of all, THANK YOU for joining us on this wild ride.
Some Samples from Our YouTube Channel
Giveaway Rules
Competition winner will be chosen at random
Competition closes on 31 December 2020
Winner will be announced within 7 days of draw
Entrance is open to all participants 18 years old and up