What If You Had A Coin Time Machine?
There are many people who wonder how much money they would have had now if they had bought Bitcoin a few years ago. If you are one of those people, you could just head right over to Coin Time Machine and check it out. Right on the top of the page you have a formidable calculator that can calculate the price of Bitcoin and that of over 150 other cryptocurrencies at any given point in time. If that sounds cool, then you should know it is only the tip of the iceberg.
Coin Time Machine Features
Time machines are supposed to give you a plethora of opportunities to change every single little event in the past. Coin Time Machine allows you to go back in time and check every single little event in the history of cryptocurrency prices. This website is such a powerful data aggregator, that its value is difficult to fathom at a glance. Here are just some of the variables you can play with to get the kind of data you are looking for on Coin Time Machine:
Date, cryptocurrency and corresponding price denominated in 23 different fiat currencies.
Yearly highs and lows for each cryptocurrency.
Savings calculator for which you can choose your cryptocurrency of choice, monthly purchase amount in fiat and purchase start date.
Additionally, Coin Time Machine has troves of cryptocurrency price data ready for you, including:
Top pairs table.
Best performing cryptocurrencies on a year to date basis.
Best performing cryptocurrencies per year.
Worst performing cryptocurrencies per year.
Percentage variation needed to achieve a new all time high on 100 cryptocurrencies.
Common BTC to USD or USD to BTC conversions.
Most looked up cryptocurrency and most looked up fiat currency.
The most recent data queries from the main calculator at the top of the home page.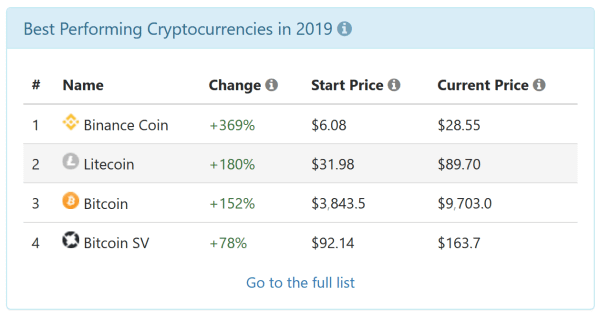 Is the Information Provided by Coin Time Machine Useful?
If you are still wondering about what would have happened if you had bought into Bitcoin 10 years ago, then Coin Time Machine can give you the painful answer. But the data that this website displays is way more useful than that. Through Coin Time Machine you have the data necessary to understand patterns of price behavior for more than 150 cryptocurrencies. You can also see what most users are interested in, and which cryptocurrencies users are the least interested in.
You can use that information for multiple purposes. Coin Time Machine goes well beyond simple curiosity, becoming a great tool for traders, marketers and vendors. It is a really interesting tool for a world in which prices are still denominated in fiat.