The Coolest Bitcoin Halving Countdown and Clock Sites
The next Bitcoin Block Reward Halving is fast approaching and there are a lot of ways and places to track it.
We had a look at some of the halving countdown clocks and sites to find the coolest and most useful ways to countdown to the halving.
All of them are useful but some are just fun to watch too!
Kudos to all of the sites here for keeping track of the 2020 Bitcoin halving.
This is only the 3rd time so far that the mining block reward is reducing and it's a big deal for a deflationary currency like Bitcoin.
But, enough talking, let's check out some countdown clocks!
BitcoinClock.com Countdown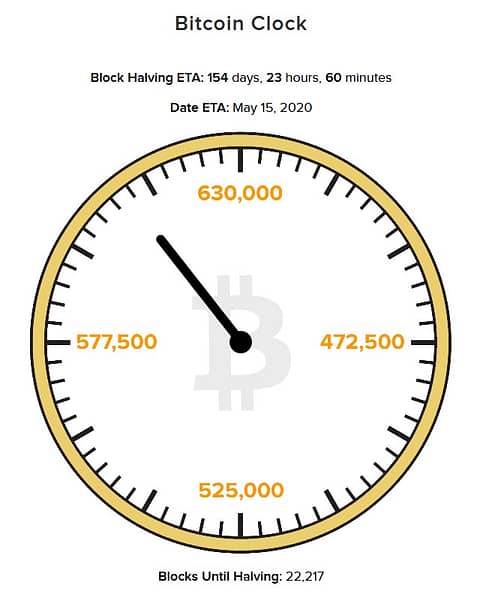 If you're looking for an actual clock, it doesn't get more clocky than BitcoinClock.com. The clock hand moves as we get closer to the halving and there is also a block countdown and ETA.
BitcoinBlockHalf Countdown
BitcoinBlockHalf uses a classic tiled clock display to tick over the time until the 2020 halving. We find this display somewhat cathartic and very cool to watch. There is also an ETA.
The Halvening Countdown
TheHalvening has gone with classic Bitcoin rocket imagery. Unlike the other countdowns there is also a percentage indicator as well as ETA.
Binance Countdown
Binance has their own countdown care of the Binance Academy. No rockets or clocks here but a slick looking countdown with time and blocks to go. Plus it's Binance so we included it.
CoinGecko Countdown
CoinGecko wasn't going to be left out either. The leaders in cryptocurrency information and tracking have their own countdown page too. The simplest of the clocks but the page also has general information about the halving.
Wherever you plan to follow the Bitcoin halving countdown is up to you. We've listed some of the most trusted and coolest places to do it but let us know if you find others you want us to mention too.