Pi Network Mobile Crypto Mining
Once upon a time it only took a CPU to mine Bitcoin. The rewards were also at their highest point, so in terms of return on investment, there was probably never a better time to do it, granted you could sit on your coins until the price hit thousands of dollars. With those days far gone, many have questioned Bitcoin's decentralized nature.
Nowadays there are warehouses full of advanced ASIC and HVAC equipment spinning, churning out nonce after nonce non-stop to claim slowly dwindling rewards. Pi network want to change that around with a cryptocurrency that you can actually mine on your cellphone.
Pi Network: Trusted Nodes and a Different Monetary Approach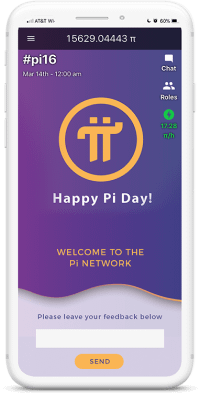 Pi strived to change the centralization of money that came with the centralization of mining on Bitcoin, on its own system. Therefore, its creators came up with a different system that relies on trusted nodes and other key features that allow anyone to get rewards in a pretty inexpensive manner. Here is how Pi approached the problem of monetary expansion and incentives to make the network functional:
Each person who joins the network in anyone of its 4 distinct roles – pioneer, contributor, ambassador and node
The most basic role is that of a pioneer
A pioneer just confirms they are not a robot on a daily basis by signing into the app on a daily basis
Contributors provide lists of pioneers they trust
Ambassadors introduce more people to Pi
Node runners run network software with its core SCP algorithm and get rewards running transactions, getting information about trusted pioneers from contributors
When a person joins, a number of coins are created
That person will have a theoretical maximum of coin rewards to claim
These coin rewards decline or halve each time that Pi network hits a user base benchmark
Rewards halved when the network achieved 25,000, 75,000 and 1 million users for example
We did it! Pi Network recently crossed 1 million engaged Pioneers worldwide. Check out our celebratory video! We are just getting started. #pinetwork #pi1million #crypto #bitcoin pic.twitter.com/KiSLuQQsTn— Pi Network (@PiCoreTeam) November 15, 2019
Pi Network is not Trustless
Pi network is therefore not trustless. It relies on trusted users and nodes. This makes it quicker and less cumbersome than Bitcoin, but more vulnerable to a cluster of malicious actors. Nevertheless, it is an interesting proposition for people who want a practical cryptocurrency designed for the smartphone era – Bitcoin and smartphones are not necessarily a winning combination.
Pi is Not Tradeable Yet
Another issue that potential users might want to consider is that Pi is not tradeable yet. It is not listed on any exchange although it was designed by a team of people who either have a PhD from Stanford or are in some way involved with that university.
Is Pi Network a Scam?
The fact that Pi is not tradeable yet has led many to label it as a scam. We have no reason to believe that Pi Network is a scam; it is just not very useful at this point, although it does offer some interesting features that are worth thinking about.
Will Pi Network Ever be Useful?
Ultimately the success of Pi Network will hinge on adoption, like every single currency before it. With adoption, the pressure for listing will come and it will make more sense to list the project on a major exchange. Nevertheless, we don't think it is a superior product when compared to Bitcoin. Although Bitcoin mining centralization and concentration of wealth represent a challenge for the system and Bitcoin markets, the elimination of these two problems doesn't necessarily mean that we should launch a different cryptocurrency altogether.
Pi Network is interesting but its reliance on vulnerable smartphones opens a whole Pandora's box of security issues for its users at many levels. From phone confiscation by authorities or theft, to malware that could track Pi Network users down, there are quite a few advantages that Bitcoin has over Pi Network in that sense. Bitcoin's success as a censorship-resistant cryptocurrency is hard to replicate and its adoption milestones have been impossible to surpass so far. Nevertheless, if you want to try Pi Network, you can get some coins for free on your phone and see how that turns out.