Fold App the Latest in the Bitcoin Cashback Trend
The recent launch of Fold App's Bitcoin cash back rewards program and their social media campaign to gain users are just another sign that cash back rewards for Bitcoin are on the rise.
Combining Bitcoin cashback apps and the Lightning Network seemed like a dream just a little while ago. Now, Fold is turning this dream into a reality with its shopping app. This looks like a promising app that will allow you to spend your Bitcoin anonymously on everyday items. It also allows you to stack sats with its Bitcoin cashback rewards.
To celebrate the launch and encourage users Fold are giving away up to 100,000 Satoshis in Bitcoin to the first 1600 users that sign up for the app. You move higher up the list by sharing the link on social media and you can track your position.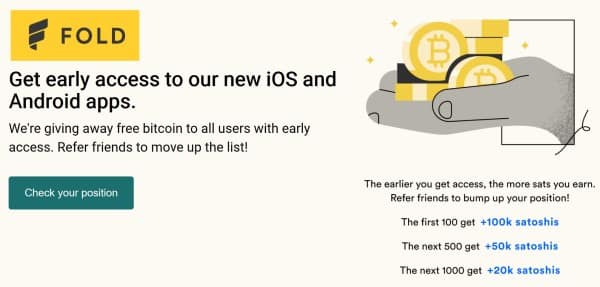 Fold Believes in Bitcoin Adoption Without Speculation
The first fact about Fold that is important to highlight, is its philosophy. This Bitcoin cashback app believes in Bitcoin as a medium of exchange and not necessarily as an instrument for speculation. Fold wants to bring Bitcoin to as many people as possible. To do this Fold will give users up to 20% cashback on their purchases.
Given its philosophy, Fold works exclusively with Bitcoin – at least for the time being. Therefore, it is like a mixture between a Bitcoin gift card service (eGifter, CoinCards, Bitrefill) and a Bitcoin cashback app like Lolli
Lightning Network Makes Fold Bitcoin Cashback Platform Possible
The depth of products that Fold gives you access to with instant payments and a Bitcoin cashback reward program that allows you to stack sats, would be impossible without the Lightning Network. This micro-payment layer that works with Bitcoin, allows Fold to set up a Lightning node that allows you to:
Stack sats due to low payment fees on the Lightning Network
Make fast transactions to purchase the gift cards and have Fold load them to your account
Initiating the Stacking Sats Trend
As such, Fold's fingerprints are all over the relatively new stacking sats trend. This is definitely the new evolution in the space, that allows people to save money through their purchases and by allowing them to accumulate Satoshis, which are expected to be worth substantially more as Bitcoin adoption increases.
In Fold's case, there is a triple benefit. Not only does the app allow users to stack sats, it also:
Encourages Bitcoin adoption by showing people there are real life uses for their coins and better cashback rewards than with other apps such as Rakuten
Shows how vital the Lightning Network is and encourages more people to use it.
Fold and Lolli: Direct Competitors but not Mutually Exclusive
It is clear that Fold has a leg up in terms of adoption benefits, which is in line with its philosophy. It is also clear that Fold's closest competitor is Lolli, a much more established brand that also offers a fiat to Bitcoin bridge. Nevertheless, Fold and Lolli are not mutually exclusive. In fact, Fold's advantages make it a great complement to your Lolli account. Read our review of the Fold App in action.
Fold Makes your Stacking Sats Exercise More Rewarding!
There is no doubt that you will be able to find other small tricks to take advantage of your Fold app even more. That is because Fold makes your stacking sats exercise much more rewarding at every level. Hopefully nocoiners will also see the benefit and will start adopting Bitcoin thanks to Fold and other services that allow them to stack their sats. We know that Fold is definitely the tip of the spear that will pierce the armour of those who do not believe that Bitcoin has any practical uses, while it makes you, a Bitcoin user, wealthier with each purchase.