Bitcoin ATM Radar: An Underrated BTC Tool
Buying Bitcoin with cash allows people to maximize the degree of anonymity that this and other cryptocurrencies provide. Nevertheless, to use them you need to find them first. That requires a directory of some sort that would allow you to see where the nearest Bitcoin ATM is. No one provides that service like Coin ATM Radar, but the service this website provides is still underrated.
Traders Dominate the Space
Perhaps the Bitcoin ATM Radar is underrated because traders dominate the cryptocurrency space. Most of the talk on social media is about either trading or political feuding between supporters of different coins. Trading requires an exchange, something that Coin ATM Radar doesn't specialize in.
When people look for places to buy Bitcoin at, Bitcoin ATMs don't necessarily appear on searches. The Investopedia article about how to buy Bitcoin for example, doesn't mention Bitcoin ATMs at all, let alone Bitcoin ATM Radar. Investopedia ranks among the most prominent results on Google for search queries related to "how to buy Bitcoin."
How Useful is CoinATMRadar?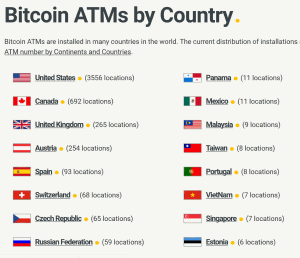 Nonetheless, Coin ATM Radar is probably one of the most useful tools for both first time buyers, sellers, and more seasoned cryptocurrency users. It allows you to find the Bitcoin ATMs closest to you. It even allows you to refine your search and provides additional useful data for people who are researching other cryptocurrency related topics. Here is what you will be able to find on the Bitcoin ATM Radar:
The location of Bitcoin ATMs.
A search tool that allows users to look for ATMs that allow them to buy other cryptocurrencies.
Tutorials on how to use Bitcoin ATMs.
Alternatives to buy and sell crypto with cash when there are no ATMs available.
A remittance tool that allows users to figure out where to buy Bitcoin and where the person on the other side of the transaction can cash out.
Detailed information on how to own and operate Bitcoin ATMs.
Additional Resources from Coin ATM Radar
Apart from incredible information and resources described above, Bitcoin ATM Radar has information on:
Bitcoin ATM manufacturers.
Data on Bitcoin ATM installation, growth, ATMs per country and more.
Profitability calculators for those who want to operate a Bitcoin ATM.
Advanced data for more in-depth research.
A very useful blog with interesting insights.
Bitcoin ATM Radar Brings Cryptocurrency Back to its Fundamentals
There is much more to discover at Bitcoin ATM Radar, which is precisely why this tool is so important. In an age dominated by trader talk, Bitcoin ATM Radar also serves to bring cryptocurrency back to its fundamentals. Satoshi created Bitcoin to free people from intermediaries and to empower individuals economically. Bitcoin ATM Radar is an incredible resource to understand how to do exactly that instead of obsessing over fiat profit from cryptocurrency trading.
#Cryptocurrency #ATM industry statistics for July 2019: 360 installed, 73 closed, +287 (5.7%) net growth rate https://t.co/MRKxOoPHX4 pic.twitter.com/sRvu3lnHGk— Coin ATM Radar ₿🏧 (@CoinATMRadar) August 6, 2019