Bitcoin Satoshis To USD Converter
People always ask what the price of Bitcoin is. That is why we created a wordpress plugin that will twist this question around a little. Our Bitcoin Satoshis to USD converter is all about the price of the US Dollar and other fiat currencies, in terms of Bitcoin.
In other words, how much Bitcoin will it take to buy a single unit of fiat currency.
Here is how it works and why it is useful. If you want to download the plugin, just click on the button to download it from our Github and install it on your website.
This is a fully supported WordPress plugin. Ready to install and use. It updates in real time and allows you to choose between multiple Fiat currencies to measure the price in Sats.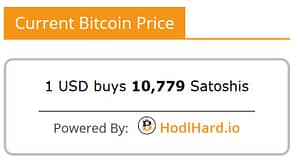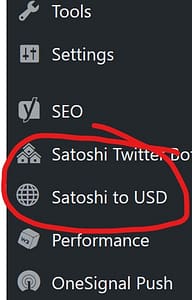 Why Express Fiat Price in Bitcoin?
Now you might be wondering why we would like to give you the price of fiat in Bitcoin and not the other way around. Well, there are multiple reasons why. But it is mainly due to how important Bitcoin is to its users and how practical a Bitcoin Satoshis to USD converter is nowadays.
Expressing fiat prices in Sats allows us to:
Convert the price of a Bitcoin transaction to fiat quickly. Especially useful to show people how much money they can save by using BTC
Track the fiat equivalent of transactions on the Lightning Network
Understand how much fiat your stacking Sats stash is worth
Comparing cash back rewards on apps like Lolli and Fold with other fiat-based systems, easily
Thinking about price in terms of BTC also helps us internalize Bitcoin's main advantages over fiat:
Bitcoin is an alternative to inflationary fiat
Part of its current price is due to USD inflation
Quantitative easing has not only contributed to inflation, but made credit easier to come by. BTC is fundamentally against credit. Not your keys not your coins!
When you look at the price of BTC conventionally, these things do not pop out. Your mind is looking for the opportunity cost of buying a whole Bitcoin instead of understanding the purchasing power of fractions of a coin.
Bitcoin Satoshis to USD Converter has a More Pronounced Effect with Other Currencies
We are actively integrating more fiat currencies to our Bitcoin Satoshis to USD converter. Therefore, it is also important to note that this purchasing power effect is greater with other currencies. Just think about how much BTC you need to buy currencies other than the US Dollar, Euro or British Pound.
Therefore, for people in countries in which inflation is higher or the currency is just weaker, the impact that thinking in terms of Bitcoin purchasing power has is greater.
A Bitcoin Satoshis to USD Converter Plugin for Hodlers
Hopefully, this effect will encourage more people to buy and hodl some of their Bitcoin long-term. If our Bitcoin Satoshis to USD converter will somehow contribute to people thinking more about their coins as a hedge against fiat and as an instrument to save more money, then that would be a huge achievement.
Since there are very few options to see a price ticker on a website in which fiat prices are expressed in Satoshis, the more our Bitcoin price plugin is adopted, the better the chance we have of contributing to this goal.
Bitcoin to USD Price Plugin Up and Running!
Above all, our plugin is already running on our site smoothly for a while. It already allows anyone to browse through HodlHard, take a look at the most up to date information about everything that has to do with Bitcoin, and keep themselves informed about the price of fiat while they do so.
Our readers now know exactly what the fiat equivalent is when they are stacking Sats. They can also benefit from understanding how much their transactions would have cost in fiat every time they make them without leaving the site.
As the space develops further, more practical applications to our Bitcoin Satoshis to USD converter will emerge. Just think about it: a few years ago, the Lightning Network was only hypothetical, and no one stacked Sats. The usefulness of this Bitcoin to fiat price plugin will keep on expanding with the space.
A Useful Tool for Everyone!
These are already advantages that we hope other websites will also be able to appreciate. Their users will also benefit from this tool. We hope that you also see the advantages in this plugin and start using it.
If you are interested just give it a try. We designed this Bitcoin Satoshis to USD converter to be light and as compatible with the most popular WordPress plugins as possible. That will allow you to install it, pick the most relevant fiat currency for your audience from our growing selection, and see how your readers react to the refreshing change.
We want this Bitcoin Satoshis to USD converter to be the best it can be. So, if you have any suggestions on how to improve it, by all means, please let us know!