Trezor Hardware Wallets: The Original Hardware Wallet
A pioneer in the Bitcoin hardware wallet segment, Trezor devices are probably the most well-known in the space. A user-friendly interface, a wide range of coins supported and features that allow them to function as password vaults allowed this Satoshi Labs product to prosper even as competitors arose.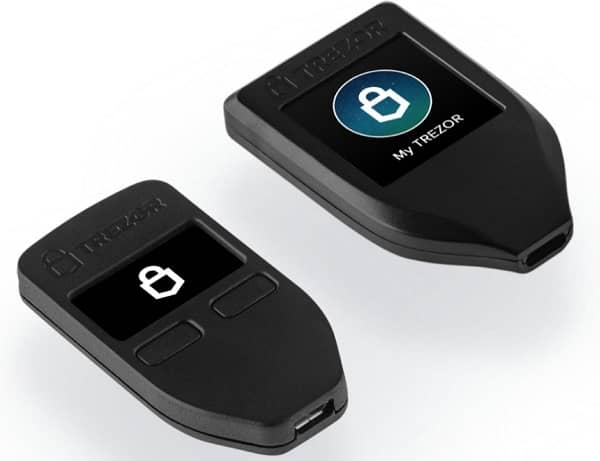 Trezor Wallet Origins
Trezor hardware wallets are the brainchild of Marek Palatinus, known as Slush and Pavol Rusnak, known as Stick. They were key proponents of BIP44 which enabled the creation of Bitcoin hardware wallets as we know them today. This also gave Satoshi Labs, the opportunity to be the first mover in this segment of the market.
Satoshi Labs
Before the introduction of BIP44 and the Bitcoin hardware revolution, Trezor was a hobby project. Slush met with Stick at a conference in Prague in 2011.
They both decided to make a device to keep their coins safe for them and their friends. This idea turned into Trezor and the establishment of Satoshi Labs – the company responsible for managing everything that has to do with Trezor hardware wallets – in 2013.
Satoshi Labs is based in Prague, the Czech Republic.
Trezor Hardware Wallet Evolution
The first Trezor wallet – Trezor One – became the industry's gold standard. Competitors have been working on different models to establish themselves in a market that Satoshi Labs still dominates.
Meanwhile, Slush and Stick came out with a more advanced hardware wallet in 2017, the model T. Both models share the same DNA.
The model T is the "luxury" device while the Trezor One remains the reliable workhorse for hundreds of thousands of users. Satoshi Labs supports firmware updates for both models.
How does a Trezor Device Work?
Despite their differences, both Trezor hardware wallet models operate in a similar fashion:
The Trezor One has 2 buttons used to confirm or cancel an operation on the device. Trezor model T replaced the buttons with a touchscreen
Both interface with your browser via Satoshi Labs software – Trezor Bridge
Both connect to your computer through the USB slot – Trezor One has a standard micro USB slot while the Trezor T has a USB C slot
Their interface is web-based – which is why users must always make sure they have the right URL to avoid phishing
Both devices have limited fire and water-resistant features
The Trezor One has a small screen while the T has a bigger, an LCD touchscreen with expanded functionality
All you need to do to operate either model is to plug it into the computer and follow the instructions that appear on the official Trezor website for the set up. Once the set up is done, the interface is easy to use. You will be able to see all the options clearly:
Type of coin wallet – shift between wallets that support Bitcoin and other altcoins
Separate accounts on each wallet – put your funds into different cookie jars to manage them better
Send funds feature – which allows you to select the transaction fee you want to pay and allows you to enter the amount you want to send denominated in crypto or in the spot fiat equivalent
Receive funds feature – just make sure you confirm the receive address on the device's screen before you use it
Sign messages
Advanced features, which allow you to hide accounts within a wallet behind an additional passphrase – you will lose the funds if you lose that passphrase
Note: Only the addresses displayed by the device screen are trustworthy! Always confirm the address on the device screen by comparing each character with the information on your computer screen or your Android device.
Additional Trezor Functions
Trezor hardware wallets allow you to do more than just deal with your cryptocurrency holdings. Both the Trezor One and the model T serve as:
A 2FA device – just like a token for any other supported account like Gmail
A password vault – like any other password manager out there (Dashlane, Bitwarden, 1Password)
Direct access to a cryptocurrency exchange from the device interface
You can access the funds on both models through an Android smartphone if you have the right cable
Trezor Hardware Wallets: Trezor One
The world's first Bitcoin hardware wallet, this device is made from high quality components, including a durable plastic case. There are also metallic Trezor One devices, encased in anodized aluminum.
The plastic devices come in a variety of colors which allows you to manage your funds better if you need to use multiple hardware wallets.
The Trezor One is the smallest of the two hardware wallets that Satoshi Labs sells. It looks like a keychain and it is extremely light – 12 grams. This device is also the cheapest Trezor.
Trezor Hardware Wallets: Model T
A more sophisticated and more expensive device than the Trezor One, this device has some nice luxury features that cryptocurrency enthusiasts love. The Trezor T is bigger and heavier than its predecessor.
That is partly due to the LED touchscreen that replaced the confirm or cancel buttons that are a feature of the model One. The model T also supports a few more cryptocurrencies than the Trezor One and has a micro SD slot.
Should I Buy a Trezor One or a Trezor Model T?
Given the differences between both Trezor devices, which one should you buy? It depends on what you prefer. If you are a beginner, a Trezor One will provide all your needs.
Both are excellent devices, so your choice will always be a tradeoff: additional coin support and a touchscreen with a USB C connection will cost more than the original Trezor wallet which is simpler. 
If you are looking for the kind of coins that the Trezor T supports, then you can't buy a Trezor One. The Trezor T is more suitable to those who engage in trading and have a complex crypto portfolio. If you are just a Bitcoin hodler, the Trezor One is definitely the device you should get.
Before Setting your Trezor Wallet, Check the Holographic Seals!
Both devices will meet the core function of keeping your Bitcoin safe if used properly. Just make sure you follow the instructions when you set your device up and remember:
Check that the holographic seals have not been tampered with before unboxing the device. This is a tamper-proof seal that guarantees no one has manipulated the hardware you are going to put your funds in!
Your 24-word seed must be backed up and kept in a safe place. The device generates its private keys using those words, which means whoever has them, has your funds!
Trezor Customer Support
Apart from the backup mechanisms, if you follow the instructions and your device still malfunctions – which is extremely rare – Satoshi Labs has an exceptional customer support department that will help you right away.
They will not be able to do anything for you if you lost your seed or otherwise tampered with the device. So make sure you follow your device's instructions carefully.
Trezor Hardware Wallet Vulnerabilities
Every security system has a weakness. Trezor hardware wallets are not the exception.
Trezor hardware wallets are vulnerable to attacks in which:
The attacker must have physical access to the device
Specialized hardware is available
If you make sure you keep your device and its private keys safe, your vulnerability level is low.
How can Hackers Exploit Trezor Hardware Wallet Vulnerabilities?
If knowledgeable attackers do get hold of your device, then all bets are off. You will still have a short window of opportunity to restore your funds from your seed and transfer them.
Attackers need about 15 minutes to crack a Trezor hardware wallet. They do so by sending electric currents to the device, spiking the voltage the wallet can handle, without burning it.
This precise attack, prompts Trezor hardware wallets to display either the seed or the pin on the screen of the device.
Keeping Funds Safe on Trezor Hardware Wallets Also Depends on You!
Satoshi Labs has patched some of these vulnerabilities through firmware upgrades. So, keep your Trezor hardware wallet properly upgraded and in a safe place.
Also, refrain from talking too much about your crypto and how you keep it safe. Behaving responsibly reduces the likelihood of this kind to attack to almost zero!
Trezor Hardware Wallets are High Quality, Reliable Devices
When used responsibly, both Trezor hardware wallets are wonderful devices that allow you to store your coins safely. We highly recommend both the Trezor One and the Trezor Model T to anyone looking for a high quality, reliable Bitcoin hardware wallet that is easy to use.