MtSocks is More Than Just Awesome Bitcoin Socks
One of the most precious characteristics of Bitcoin, is its reach beyond the stated goal of becoming a purely P2P form of electronic cash. Its features can be used creatively in different ways.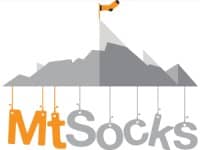 MtSocks is a great example.
This Bitcoin sock store offers much more than just cryptocurrency-themed socks. Just like with Bitcoin, not all of the characteristics of these socks is immediately obvious.
This is the kind of Bitcoin apparel that merits a deeper look to reveal the full spectrum of its functionality.
MtSocks: The Story
Mt Socks is a creative venture spun from within CoinCorner, one of the oldest and most well-established Bitcoin exchanges in Europe. Founded in 2014 and based out of the Isle of Man, this exchange was there to fill in the void that Mt Gox left.
In fact, Mt Socks is a play on words for one of the most historically significant – and infamous – Bitcoin exchanges. This, however, is just one small feature that allows people to start understanding the significance of these Bitcoin-themed socks.
Bitcoin Socks for Educational Purposes
Everyone needs socks, so why not buy Bitcoin-themed ones? This is the kind of niche product that can be fun for anyone to try out. It is also cheap, so the team at MtSocks took advantage of these characteristics to create an educational garment that would be cool to wear.
When you buy a pair of socks from Mt Socks, you get:
Reasonably priced socks
A blockchain-backed certificate of authenticity through a signed message
Designs that are historically or contextually significant for Bitcoin enthusiasts
An educational explanation that contextualizes the design for those who don't immediately understand it or are not particularly familiar with Bitcoin
A unique product, given that each particular design is sold throughout a given month. Once that batch of socks is sold, that particular design will no longer be available
MtSocks: Encouraging Bitcoin Adoption One Pair of Socks at a Time
Just like Bitcoin, Mt Socks' apparel fulfills an expanded role beyond keeping your feet warm:
It encourages Bitcoin adoption, showing how anyone can buy practical, everyday items with Bitcoin
Shows buyers how Bitcoin can be used as more than just a medium of exchange – blockchain-backed certificates of authenticity
It helps combat misconceptions about Bitcoin, encouraging buyers to spread the word about the product, its virtues and how it allows us to discover the full range of Bitcoin use cases
Buy a Pair of Mt Socks with BTC from CoinCorner!
Probably the cleverest characteristic of the Mt Socks project, is that it encourages people to buy Bitcoin.
You can only pay for your socks using BTC, which allows CoinCorner – the company the spun the Mt Socks project – to offer its services as an exchange.
Although this might seem as a ploy to some, Mt Socks makes it clear that customers can buy coins at any exchange they wish. The gentle nudge to buy from CoinCorner is beneficial for Mt Socks' parent company but also for the customer.
It shows that the Bitcoin economy can be integrative and more user-friendly than it seems.
Don't forget to stack socks as well as sats 😎 #Bitcoin pic.twitter.com/C8bSUpClQL— MtSocks (@mtsocks) January 23, 2020
High Quality Apparel from Mt Socks
Above all, Mt Socks offers a high-quality product that customers will be able to wear and enjoy for a long time. It is a great idea that shows that Bitcoin marketing can be incredibly resourceful and bring more functionality to the customer.
So, go ahead, buy a pair of MtSocks socks and experience the richness of this project first-hand!