Hublot Sells Watches For Bitcoin Users
Hublot, one of the most iconic Swiss watch brands, designed and marketed a limited edition watch for Bitcoin users to commemorate the 10th anniversary of this cryptocurrency. This has many asking whether the luxury watch brand will embrace Bitcoin permanently or whether it was just playing the field.
Maybe someone at Hublot even saw the bear market as a great opportunity to market a product that will give the company a limited exposure to Bitcoin, with a lot of potential upside. What we know for sure, is that the Hublot Big Bang Meca-10 P2P, could well become one of the most highly prized Bitcoin collectibles.
The Bitcoin Watch by Hublot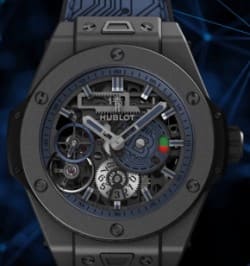 Hublot limited edition watches are highly coveted as they are, but this special edition to celebrate 10 years since the inception of Bitcoin is special. It has incredibly detailed references to Bitcoin and its design was absolutely exquisite. Here are some of the main features that Bitcoin enthusiasts will notice about the Big Bang Meca-10 P2P:
An inscription on the rear side of the watch points out that only 210 of these watches were made, an allusion to the 21-million-coin cap
Unique certificate engraved on the watch case related to the transaction hash for the watch's purchase
Blockchain design evoking the interconnected network of computers, including on the strap and on the back of the watch
Apart from these Bitcoin-specific characteristics, the Hublot Big Bang Meca-10 P2P offers the following:
Micro-blasted zirconium dioxide case – scratch resistant
45 mm case
Completely mechanical watch
10-day power reserve – before you need to wind it again
A $25,000 retail price tag payable only in Bitcoin – re-sale is expected to be much higher
KYC Requirements to Purchase
Hublot also managed to cover its bases from the KYC/AML perspective. It was not enough to have enough coins to buy the watch; Hublot wanted to know who was buying each piece and where their BTC came from. This is where Hublot and the Bitcoin space collided. Bitcoin users don't necessarily like KYC and this kind of vetting because it reeks of censorship. Nevertheless, this feature might make the re-sale price of the watches even higher, especially because there are people out there who wanted it, had enough money to buy it but potentially fell short on Hublot's vetting process.
Hublot's Big Bang Meca 10 P2P Watch: Highly Coveted Collectible?
With time, this watch has the potential to become a highly coveted Bitcoin collectible. Apart from all the special features that can make it a sure-fire collectible, there is the crypto-specific aspects of the watch that would make it even more attractive. The watch was released on October 31st, 2018 to commemorate the 10th anniversary of Bitcoin's white paper. This feature will become even more significant as time passes. So will the transaction hash engraved on the case of the watch. This hash will allow people to see exactly when the watch was first purchased. It is a sort of blockchain purchase certificate.
Hublot Bitcoin Watch Price
Given all these small features that would make the watch a coveted collectible piece, the $25,000 initial price tag seems fair. Those who invested in buying the watch for its re-sale value, took a small risk with a good upside potential if they were thinking in fiat terms. Otherwise, they will have to time their sale to maximize the BTC amount they will get, which, as Bitcoin prices rise, could eat into the profit margin significantly.
By the same token, Hublot is poised to make quite a bit of money in fiat terms on this limited edition watch. Bitcoin dipped to $6,300 USD when Hublot released the watch. Soon after, when the sale was ongoing, Bitcoin price dipped further, bottoming out at $3250 USD on December 17th, 2018. That means more coins per watch and now that means quite a bit of profit on the exchange rate alone.
Will Hublot Continue Accepting Bitcoin Payments?
Nevertheless, apart from this special edition Bitcoin watch, Hublot does not accept Bitcoin payments currently. Maybe management will change their minds, especially because of the additional profit they surely saw from the exchange rate. In the meantime, it looks like the next time we will see a Hublot Bitcoin watch will be for the 20th anniversary of the white paper – or maybe on the 20th anniversary of the genesis block. Maybe if you missed out on the Big Bang Meca-10 P2P, you would be better off waiting for the next edition. That one could cost you fractions of a Bitcoin instead of a few good coins!