Bitcoin Stickers You Can Print At Home!
If there is one thing you can say about Bitcoin supporters is that they are masterful proselytizers. Financial freedom and the benefits of a decentralized system is what they promote through social media platforms and other media. Merchandise is one of those media, which is why these free Bitcoin stickers are interesting.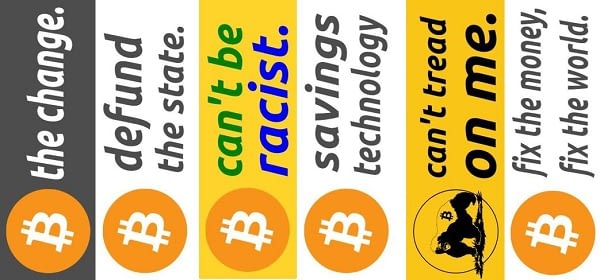 Proselytizing Through a Sticker
The concept behind Bitcoin stickers is simple: to promote an idea in a relatable manner with a short message. The best part of this piece of merchandise is that you don't have to buy it from anyone. You can get it for free and print as many stickers as you want to promote BTC.
How do you Get your Free Bitcoin Stickers?
So, if you want to print some Bitcoin stickers for free, you just have to do the following:
Head right over to Ideas Are Like Flames – there are currently 18 designs to chose from and more are coming
Pick your favorite sticker and click on the full screen view
Download the PDF file
Take the file to a site like Vistaprint – or preferably to a site that takes BTC payments – and make as many stickers as you want
You can also use these designs on:

Masks – since we are in the middle of a pandemic, many of these printing businesses offer personalized masks
T-shirts
Caps
Totes
Mugs
Any other product that these printing sites offer
Bitcoin Stickers Are Subversive, But Not That Much!
There is one particular point that is important to understand before you go pasting stickers all over town. Remember that you can be subversive with your Bitcoin stickers, but you should also understand that pasting them on public property or someone else's property might be illegal.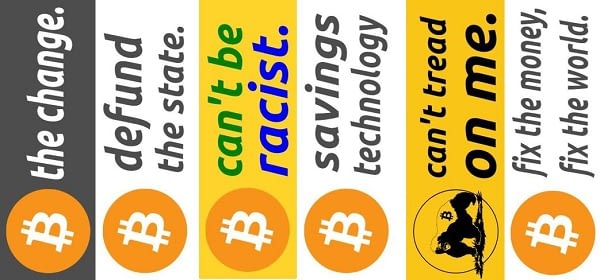 Use them on your car bumper – if you consider this will not constitute a risk to your wellbeing – or on your apparel. People will be able to see the message just as well and the degree of subversion will be tolerable.
Damaging Property to Promote Bitcoin
There are other methods to promote Bitcoin's message in a bolder manner, like defacing banknotes with a BTC stamp. This practice has gained notoriety in some places, despite the fact that stamping bills voids them.
Bitcoin stickers will have a different effect than these BTC stamps. There is no need to plaster them over public property.
Bitcoin Stickers for Everyone!
In any case, these Bitcoin stickers are a great way to spread the message or to get some Bitcoin merchandise on the cheap. It is important to thank the creators of these designs for allowing us to use them freely.
So, when you are ready, just go ahead, print away, and proselytize away. Bring as many people as you can over to our side for the sake of financial freedom!