Books are an important source of information and learning in any field and the same is true when it comes to Bitcoin.
Even in this digital age some information and knowledge is best gained from reading books. There are new books on Bitcoin and cryptocurrency coming out all the time but already there are some great classics that shod be part of any serious Bitcoin library.
The Best Bitcoin Books to learn
Here are some of our favorites and classic theory to enrich your Bitcoin knowledge.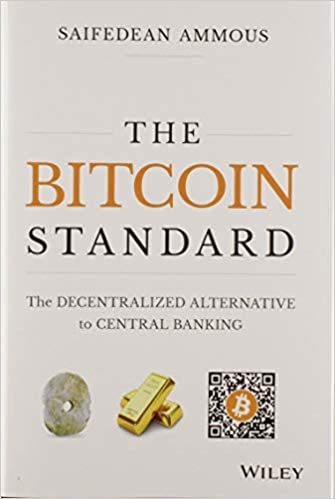 The Bitcoin Standard: The Decentralized Alternative to Central Banking
Author: Saifedean Ammous – See the book on Amazon

The Little Bitcoin Book: Why Bitcoin Matters for Your Freedom, Finances, and Future
Author: Bitcoin Collective – various authors – See the book on Amazon
Bitcoin Billionaires: A True Story of Genius, Betrayal, and Redemption
Author: Ben Mezrich – See the book on Amazon
Mastering Bitcoin: Programming the Open Blockchain
Author: Andreas M. Antonopoulos – See the book on Amazon
Bitcoin Money: A Tale of Bitville Discovering Good Money
Author: Michael Caras – See the book on Amazon
Programming Bitcoin: Learn How to Program Bitcoin from Scratch
Author: Jimmy Song – See the book on Amazon
Learning About Bitcoin From Books
There are a few ways you can educate yourself about Bitcoin. From all the available alternatives like videos, information on sites like this one and internet forums, books are probably the one that requires the most commitment in terms of time.
Bitcoin books are, nonetheless, the most knowledge-rich option by far. They contain a greater degree of detail, as well as critical knowledge from experts, unlike other options like forums.
Furthermore, if you need to learn how to adapt certain skills to the world of Bitcoin, blockchain and cryptocurrency, then books are by far the best way to do so.
Since Bitcoin and the wider cryptocurrency space are continually developing, the degree of complexity within the space is constantly growing.
Therefore, Bitcoin books nowadays encompass a variety of topics, drawing knowledge form diverse disciplines. These disciplines include – but are not limited to:
Economics
Computer Science
Cryptography
Statistics
Game Theory
Psychology (Behavioral Economics)
This is why there are so many Bitcoin books out there for you to pick from.
These books address at least one of the disciplines above, but they also do so with varying degrees of depth. Some books are highly technical while others are well-suited for non-technical people.
Within the community there are people who are taking the time to educate the public about Bitcoin by casting as wide a net as possible to share the maximum amount of knowledge they can with diverse audiences. The result is that apart from technical and non-technical books, there are now Bitcoin books for children as well.
The coverage that various Bitcoin books provide is indeed quite remarkable, considering the fact that this space is still a novelty.
Fortunately, the kind of enthusiasm that drove so many knowledgeable people to write this books, is exactly what the space needs to attract more users.