HODL Bitcoin Meaning, Origin and Why it Matters
Have you ever heard how a friend of a friend made millions trading Bitcoin? Well, that story is as old as exchanges. There are those who are great traders; all the rest of us should just hodl! That is exactly the gist of the BitcoinTalk post in which a drunken typo inadvertently gave Bitcoin its most valuable slang term.
The Origin of the Term Hodl
On December 18, 2013, Bitcoin prices crashed. They went from almost $1,200 USD to below $700 USD in 3 weeks or so. GameKyuubi, a BitcoinTalk user who have had a rough few days apparently, decided to share what he thought about the prices crash and Bitcoin trading in general.
Despite being drunk – apparently – GameKyuubi made an important point about why he was "hodling" Bitcoin through the price crash. Fellow BitcoinTalk users, who identified with GameKyuubi's philosophy, commented on the post and shared it. They inadvertently immortalized the typo that became such an important cultural concept for anyone involved in Bitcoin.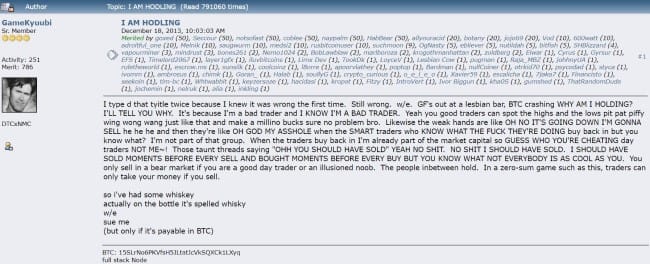 How Could a Drunken Post Be So Important for Bitcoin Culture?
Nowadays it seems that the drunken typo is more important than GameKyuubi's point about trading. Nevertheless, every time Bitcoin prices crash, people tell others to Hodl. Why is that Hodling is so important? Here are the real reasons why:
GameKyuubi claimed on his on his post that he is not a good trader
People should not be swayed by what traders say if they don't know how to trade
Traders make money – and fools – out of weak hands who panic and sell when a bear market sets in
Not everyone knows how to call the peaks and many people lose money trading
Therefore, even if times are rough and prices go down, he will "hodl"
If you believe in Bitcoin, if you believe it is superior money, just hodl and be patient with the market; better days will come
Like the Cypherpunk philosophy, Bitcoin is about more than just money
So, What Does Hodl Really Mean?
The essence of the word "hodl" is to hold your coins through thick and thin because eventually Bitcoin will prevail.
Market prices are denominated in inferior fiat currencies, so if you don't know exactly what you are doing, let the traders play while you hold. That is the philosophy behind hodl, which is actually just to hold regardless of what is going on in the market.
What Hodl Doesn't Mean
Many seem to believe that hodl is an acronym – H.O.D.L – which spells out "hold on for dear life." This and other theories behind the term hodl and its meaning are wrong. They are just part of the legend behind that drunken post on BitcoinTalk.
HODL: Changing the Way we See Bitcoin and the Way we Talk!
We shouldn't forget the origin of hodl or the context in which it was created. People must understand that good traders will always make more money, but that money is denominated in fiat. On the other hand, those who recurred to hodling back when GameKyuubi wrote that post, have seen the price of their coins increase by hundreds of percentage points, even thousands at some point.
Those who traded their coins away when prices started to dip in December 18th, 2013, surely regret their actions. Now they don't have the opportunity to buy Bitcoin even at $1,200 USD, which was the peak price at the time.
Can the Hodl Philosophy Change the Way we See Bitcoin?
We still don't know whether hodl philosophy in its purest form can take over the psyche of a growing number of Bitcoin holders. Hodling should inform our decision-making process when it comes to trading and holding Bitcoin, nonetheless.
It is fine to trade, but should you put all your Bitcoin on the table? Probably not. Hodling is important, as is using your Bitcoin to purchase what you need. Therefore, if you want to trade and see if you can call the peak, it is prudent to hodl some of your Bitcoin. Historically speaking, putting all your coins on the table is way too risky, while hodling tends to make your coins be worth more in fiat terms.
Buy Low, Hodl, and Never Sell!
Therefore, a true hodler will buy the dip, hodl and never sell. Since we are not financial advisors and we don't believe in telling people what to do anyway, we will not recommend any particular strategy to you. All we will say is that hodling is historically a good move and if Bitcoin keeps on getting more traction, those who hodl will inevitably be on the right side of history. HodlHard guys!